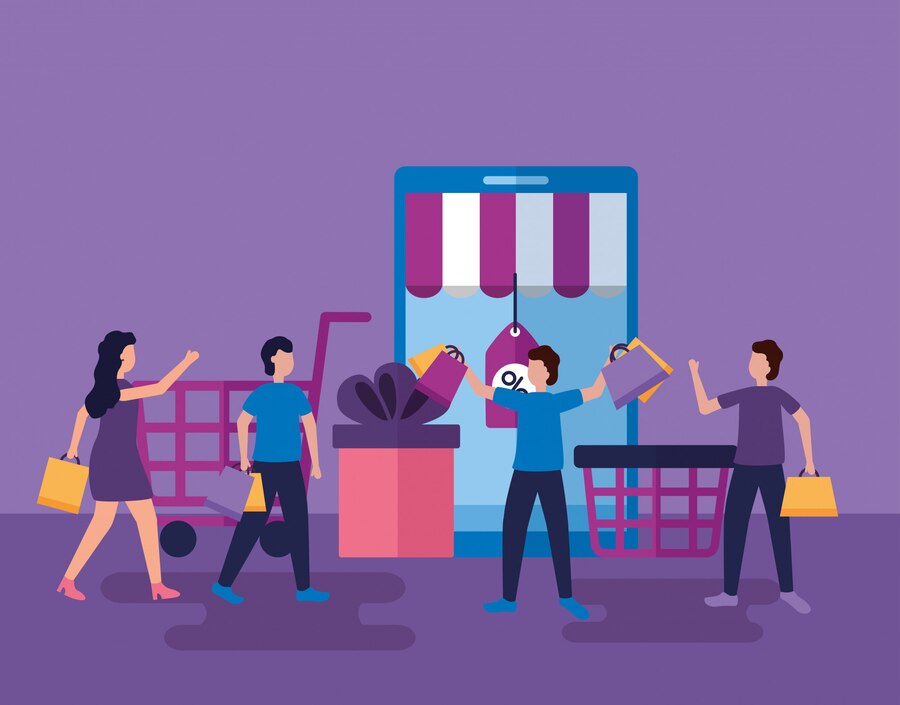 Do you know which was the first ecommerce business? Or which eCommerce business first achieved profit in the industry? Jeff Bazos launched Amazon back in 1995 but they achieved first yearly profit in December 2001 (Fourth quarter). Amazon survived after dot com burst and became a giant player in online sales business. Each and every day new eCommerce business launches and shutting down and only they survives in the industry who knows how to grab and retain customers with effective eCommerce marketing strategies. Let's talk about some marketing skills which help you to double eCommerce sales.
If there is any business which sells products, makes money and in most cases, even making profits; it should be eCommerce business. But this was not the case for some time. Some years ago, eCommerce was quite different from what it is today.
The bottom-line was not so robust as it is today. Ecommerce Stores have embraced new ways to market themselves. And if your ecommerce store is struggling to join the league of profit making online stores, here are some skills you must develop right away. It is better you start now so that can be marked as a year of record-breaking sales in your timeline.
#1 Content Marketing for eCommerce
Bill Gates predicted it in 1996 and rightly mentioned the importance of content. The truth is no different today. Content is undoubtedly the King in today's marketing. No business can hope to win customer's attention without content.
Why content wins?
Image Source
Well, there are various reasons behind this but when it comes to eCommerce, content can be helpful in different ways explained below:
Compared to the cost involved, other forms of advertisement are not feasible in generating leads or conversions

Telemarketing has literally hit a dead end, thanks to call identification and blocking mobile apps

Networking is soon running out of its shine as a potential mine for leads
Pro Tip:
For eCommerce businesses, it is always challenging to keep unique and compelling content for their product pages. In such situation, the right content strategy will make your website unique as compare to your competitors selling same product. Proper implementation of user generated content can be best bet for you. Here is the best example of BestBuy.com utilizing this opportunity by asking for product reviews from the buyers:
In other words, content marketing can become best marketing weapon for your eCommerce stores if planned and implemented properly.
#2 Data Collection and Decision Making
"He who wants to have pearls must dive below. "

~ John Dryden
Putting that age old adage in today's context, he who wants to know customers up close must search for data. As the old age saying goes, if you want to know how to make customers buy and what excites them into a buying frenzy, you must first know their preferences.
Thanks to advanced web technologies like user heat mapping, Data Mining, etc. it is now easy to read customer behavior like a textbook. There is plenty of data coming in from various sources which, if segregated and analysed properly will help one find pearls, or in this case, customer behavioral pattern.
Once you have a clear picture of your customers' preferences, fine tuning your online selling strategy to satisfy them is a task easily done.
Especially when you are marketing for specific festival, data provided by agencies on customer intent can play best role.
#3 UI/UX Design for All Different Devices
The year will repeat like any other previous year, but with better design. UI and UX have become critical checkpoints for customers to like or dislike an online store. If your store has a brilliant UI that can deliver engaging UX, you are saved.
On the flip side, go back to drawing board and fabricate a new UI design that will delivery high on UX. keep perfecting it until the UX goes from being good to great. Be informed that missing falling short of delivering an upscale UX will cost you more than 38% of online customers (Source: Adobe). Recent study shows that the mobile sales has already surpassed the desktop sales and it is growing rapidly, you must optimize your UI for all different devices.
#4 Web vs Mobile App Version
Don't ignore mobile app! Yes, if you are not having mobile app for your eCommerce business, you may loosing good amount of business. It will help you to stay connected with buyers with push notifications about your offers and exclusive promotion for mobile app users.
If you are having limited budget and want to manage A basic understanding of HTML and CSS can go a long way in maintaining and modifying your online store. Moreover, how long can you spend money hiring a web designer or a freelancer for every single modification?
A better proposition will be to learn few hacks in web development that will help you prep your website, both in terms of design and functionalities. Further, once you learn to code, you will be able to exercise more control over your marketing and SEO optimization.
#5 Shopping Ads + Dynamic Re-marketing Ads = Best Combination
If done right, eCommerce stores can reap several benefits from shopping ads. Although it seems to be complex on the onset, its functioning can be easily understood with some effort. Once you understand how shopping ads works and how its results can be measured you will see big improvement in conversions and can save on cost per conversions as compare to search ads.
You can explore the various possibilities of display advertising through dynamic display ads, video ads, search network ads, display banners, etc. all of which can be done on your own using free and paid web tools. Some Internet platforms to try display advertising include eCommerce websites, high-traffic websites, blogs, video sharing websites, social networks, etc.
Pro Tip:
Start building remarketing list audiences based on different actions and serve dynamic display ads optimized for specific audiences. It can dramatically improve the view through conversions can result in better ROI. Here is the best example of how amazon is showing ads (Dynamic remarketing) of the product I visited recently.
#6 Email Marketing
Email marketing has the magic potion to lure back those customers who abandoned their carts mid-way. You can do email marketing in three modes:
As regular promotions for ongoing sales offers

Scheduled shooting of targeted offers to specific customer groups

Re Engagement campaigns that will sustain the brand loyalty of customers
Now, the difficult part – should you outsource or do it yourself? We suggest you take the DIY route. If you manage to do email marketing on your own, it will not prove to be cost-effective but will also help you pitch to your customers in a personal tone. Outsourced agents may not help you achieve that personal tone in an email pitch.
See how PetFlow multiplied its conversions through personalized and targeted email marketing campaigns.
As you can see from above, they have set a fetching email subject line, a visible display of their product rating, a very prominent discount offer, product recommendations followed by real customer feedback. Now, as a customer can you resist ignoring this email campaign?
Steps for email marketing (When ecommerce store should shoot emails)
#7 Importance of SSL certificate for eCommerce
Norton, Symantec SSL Certificate, AVG Security and the other members of the online security industry are raising warning sirens about growing eCommerce frauds and scandals. If you thought cyber security is all about securing your data, you are wrong. It also has a marketing edge to it.
Your organic SEO ranking is largely dependent on your online store's security. Google, since 2014 has been tweaking its algorithm to rank those websites with proper security higher than those without proper security measures.
That is why we recommend investing in a well-chosen SSL certificate that will encrypt your website. It will not only secure your domains and sub-domains but will also go a long way in boosting conversions.
Moreover, cyber security also earns customer trust. It gives them an assurance that their personal data is kept safe from hacker's prying eyes. Displaying trust seals in your website will also help boost customer retention rates.
#8 Search Engine Optimization
Search Engine Optimization, popularly referred to as SEO is the cornerstone marketing tactic that is helping online businesses grab customer attention by the collar. SEO primarily revolves around the use of targeted keywords and phrases that customers commonly use for getting work done.
Why is SEO important for you? First of all, it is free! If you can create organic traffic to your website through SEO activities you stand to profit quite a lot in terms of marketing spending.
Secondly, it is highly productive. Google and other search engines have created a level field where in those web pages with the right SEO marketing tactic can rise above without any difficulty. eCommerce marketing should always have SEO strategy at first place as it drives the maximum traffic and sales.
SEO is easy to understand and master, thanks to tons of free materials available online. Right from scratch to advanced SEO techniques, you can master the Internet and make it work for you.
Pro Tip:
Traditional SEO technique will not help much when you are working to promote eCommerce website with 100s or 1000s of products. Here, formation of URL structure and categorization with highly targeted products along with properly utilization of canonical tags is very important.
#9 Video Marketing
"Forrester researcher Dr. James McQuivey estimates that one minute of video is equal to 1.8 million words."
A video can convey a message better than a full-page article. Video production is ramping in scale across the digital marketing universe. Moreover, a video can easily communicate with a viewer easier than a written article or a designed graphic.
Video creation has become easier and affordable thanks to the many apps that are available in app stores and video sharing websites. In fact, YouTube itself offers a Video editor and Photo Slideshow creator with which one can create 1080p videos for marketing purposes.
Can it drive conversions? Unbounce reports that including video on a landing page can increase conversion by 80%. Now you know why video marketing is a skill you cannot afford to miss in the coming days.
#10 Social media marketing
Do you know? Social media has evolved as an entire marketing tool of its own. Social listening is the next Big Thing that will change the way we shop and browse for everyday things.
If you thought getting likes, retweets and favorites for your posts were nothing significant, think again. For an online brand like Amazon, eBay or even PayPal, social media is a powerful weapon to beat competition and to mark their own market share.
Here are some social media channels worth exploring to build your online presence:
Facebook

Twitter

LinkedIn

Pinterest

Quora
Users always find it compelling to share with their immediate social circles about their recent buys or wish lists. In such a scenario, social media can also double up as a virtual platform for word of mouth publicity. Stores that provide public sharing of customer purchases have a fair chance of winning more traffic & conversions.
#11 Brand Awareness
Building brand awareness is an important task when it comes to e-commerce. Working on building brand awareness increases the credibility of your brand. When customers are attracted to the website when they trust your brand name.
A few ways to build awareness for your brand are:
• Online Ad Campaigns– Online ads can help in creating a name for your brand. Google Ads and Facebook Ads have exclusive algorithms that allow potential customers to see your brand and product.
• Quality Content– Customers are attracted to your brand when you have the quality to offer. If customers engage with your content, it will build your brand name.
• Engage with Customer– Constant communication with your customers is necessary to make them feel connected.
#12 Google Analytics
Google has created a platform for website analysis called Google Analytics. It is a useful tool to know what visitors are buying and ignoring. Using Google Analytics will allow you to adapt your brand according to customer needs. If a customer feels your brand can fulfil their needs, it will automatically build your brand awareness.
#13 Marketing Automation
Market automation is a process that allows managing the business processes and the workflows. It reduces expenses, increases purchases and order value. Using automation tools improves the shopping experience of the customers. You can use tools like Marketo, Infusionsoft, or even MailChimp. This will help you in building your brand awareness and thereby increasing your business.
Conclusion
eCommerce industry is all set to sail into a higher turnover range. Is your online store prepped to take a share of the market? Most importantly, are you in tune to market your store better? These 13 online marketing tactics will boost your store's presence way more than what you can do with a paid agency.
Start learning right away and put yourself on the launch pad to eCommerce success. Do not forget to keep in mind the needs and wants of your end users when you are scheming for new marketing campaigns. In the end, Customer is King.