Do you own a Fashion eCommerce business? are you looking for proven marketing strategy to build profitable fashion eCommerce brand that can generate steady and positive ROI?
you are at right place!
In this article, I will share proven eCommerce marketing techniques based on my decade of experience working with leading D2C and B2C fashion eCommerce retailer to increase their revenue by more than 100% within small period of time.
Note: If you are new in eCommerce marketing industry and want to learn from the basics, we recommend reviewing our detailed eCommerce digital marketing strategy guide first.
However, seeing at the recent growth of the industry, it's clearly not the case. According to Statista, retail eCommerce revenue from fashion apparels, footwear and accessories are expected to grow to 295.7 Billion USD by 2025.
Image Credit – Statista
A huge amount of investment is being done into this sector but due to Covid and other challenges, there are some limitations too. There are several key players today including Moda Operandi (valued at 650 million), Nasty Gal , ShoeDazzle, BeachMint and more. These numbers aren't inflated but rightly show the opportunities and value proposition in the market.
Companies like Nordstrom, Neiman Marcus and Nike are setting new standards for online shopping and with new eCommerce technologies being invented every other day, the partnership of digital and retail works brilliantly.
However, in-spite of the huge growth and the opportunities, there also exist of online fashion brands struggling to survive. It's a marketplace that is marked by frequent changes in consumption behavior and the inability to adapt leads to losses. Moreover, the online marketplaces like Amazon, Walmart are also acquiring a great % of total sales by not only introducing best selling products with lower price but also introducing various ads options.
Image Credit – https://ecommercedb.com/en/ranking/us/fashion
It is necessary to understand that though the online fashion retail market enjoys the same characteristics, there are clear differences when you are trying to sell a particular kind of product in a particular market and targeting particular demographics.
Every successful fashion eCommerce brand has not just been able to find their competitive advantages but is also continually striving to set new targets, branding and marketing techniques. Attributes like pricing standard, packaging, delivery, communication, grievance management have become more important areas to focus upon than the quality of the product. To be able to establish a successful online store, brands need to understand what the customer seeks:
Low pricing

Big discounts

Quality products

Trendsetting designs

Good visuals

Convenient browsing

High quality content

Interesting stories

Easy payment processing

Secure enviroment

Great customer support

Easy return / shipping policy

Social adoption and much more.
Looking at the successful fashion eCommerce players in the market and their online marketing strategies, here are some takeaways that newer entrants should focus upon:
1. Visual is as Important as Quality
When we are talking about physical fashion retail stores, the showroom experience also relied upon the quality of product display. Fashion brands have been known to embark in displays that give a larger-than-life image to the products. It essentially establishes the quality, authenticity, exclusivity and value of the product. However, when the same store goes online, visuals are limited to the photography content available on the page. It is thus necessary for online fashion eCommerce store that the quality of visuals should provide the maximum information to the audience, while heightening the perceived value. Professional product photography helps establishing the real feel of the fabric, material, stitch details, emblems and more. Navigable product photographs in successful fashion websites offer option for zooming into images to get a better look.
If you are a online jewelry shop, you can also implement feature like how product will look on body. Sometime, customers need to see about the appearance and this type of features will help them in selecting the right products.
Other than the product photos, the overall visual (website design and navigation) should feel shoppable. An eCommerce website in this case should be understood the same way you would design a physical store. Further, several stores also add product packaging pictures to let the customers know how they will receive the item.
Apart from just product images, eCommerce website can put clothing or jewelry product videos as well on landing page to showcase how product will look on Men/Women. Product videos has more impact compare to product images on customers mind. As per statistics 73% more visitors will buy the products if they watches the product videos on site. So, make sure you add the product videos as well.
Pro tip: This is very important part of any eCommerce marketing strategy and highly recommended for the brand having lower conversion rate and higher bounce rate.
2. Don't sell on the Homepage
The homepage of any online fashion store is more about establishing credibility and trust among potential buyers. The ideal home page is not for displaying products or its prices. Instead it should integrate marketing and promotional strategies that will encourage the visitor to explore the rest of the website before navigating to the product pages. The best you can do is display the product categories on the home page and create an intuitive interface that makes it easier to navigate to the inner pages.
We have seen many fashion eCommerce websites using home page to promote the offers and new launches specific to season. By incorporating this into your marketing strategy can be helpful to promote seasonal products.
Pro tip: Displaying customer reviews, brand achievements, awards and web security trust seals on home page can increase the conversion rate of your fashion eCommerce store.
3. Unique Story Telling Product Descriptions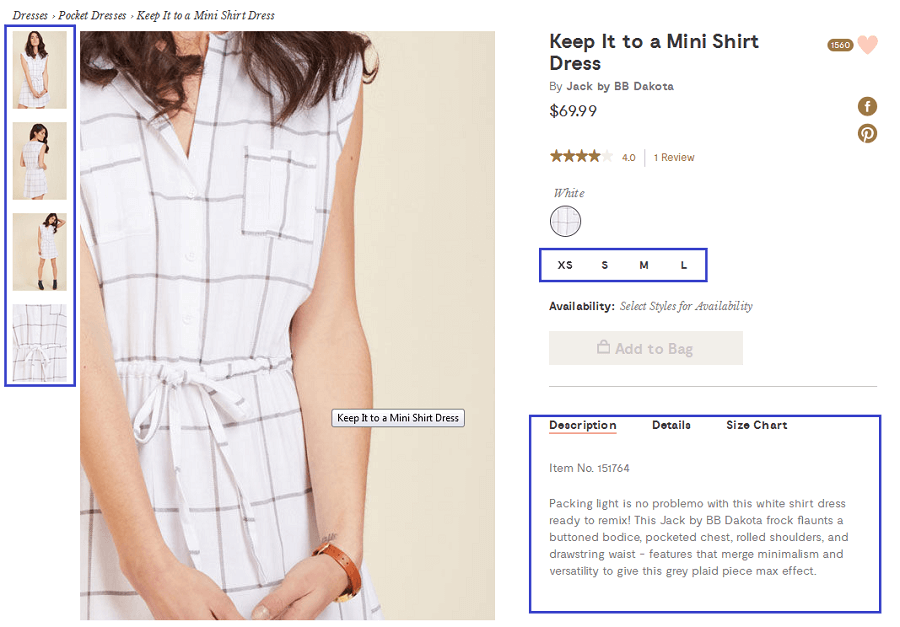 Your products won't sell if you are still copy pasting product descriptions from the manufacturer's website and adding spammy Meta tags to enhance the traffic. The modern product description is all about being able to communicate the product's value with a real story. A great example of such salable product descriptions are presented by ModCloth. Each of the description adds more life and personality to the product and adds reasons to why anyone should be buying it.
Pro Tip: User generated content like product review, ratings, questions and answer from the real buyer can boost the conversion rate & decrease the bounce rate of your respective landing pages. It also helps in organic search rankings.
4. Upload and Update Latest Products

For fashion eCommerce brand; the best way to entice a returning customer is to offer a new line of products that he/she might want to buy. A continuous updated inventory essentially signifies that the brand has something new and unique to offer. The same old stock photos will easily bore out customers, especially if customers are returning visitors. One time visitor might have seen those products for first time on your website but that doesn't mean they never seen those products on other online fashion store. Even with the same kind of inventory, you can always go for fresh looks with new models, new styling and personalized product recommendation. There is no limit to creativity that can market a product.
Pro Tip: Same old content and catalog will not only annoy users but also will annoy search engines. Fresh and unique content along with latest trend of product will definitely help you in generating better organic traffic result into better business.
5. Personalized Email Marketing – Email Marketing Structure
Personalized emails can be a very successful marketing tool, especially for an online fashion eCommerce brands. It is deemed as an instrument to build a long lasting relationship with the customer while acting intelligently to enhance the shopping experience. Email marketing campaigns can be strategically synced with buying behavior and preferences to make customers feel special. Discounts on birthday, anniversaries, etc have always increased conversions. Personalized emails can cover several aspects of shopping, including:
A thank you letter for purchasing products

Added to cart but not completed purchase (Remind them your product is in cart)

Customers who might be interested in new products added to particular categories

Wish list product updates (Those who have certain products in wish list)
While email is the top source for data analytics for marketers, it will also be a point of contact that customers will check from anywhere, from waking up in the morning to reading emails when driving to office. According to DMA report (2019), every $1 spend on email marketing; you can expect the average return of $42 and this is really huge return must say.
6. Don't Forget to Build Email Lists
A key marketing tool used by most successful online fashion brands is an email subscription form. Whenever a new visitor lands on your website, a simple pop up form can collect the email details of the customer and add him to the list of subscribers. Building an email list through this and other means is essential to generate the maximum amount of attention to everything new that you do. Whether you have come up with a new product, a promotional sale or an event, it is best said through email newsletters. In above image you can see that how Moda Operandi provides sign up offer in subscription form while entering into the portal.
Pro Tip: Create further segmentation in your email list and avoid sending same email to entire list. Understand user interest and accordingly do the event based email marketing. This will help you to lower email unsubscribe rate and result in better conversion rates from your eCommerce email campaign.
7. Stay Real
The growth and popularity of social media has made marketplaces highly democratic. Brands no longer dictate fashion but the customer experience and reviews are. It is thus necessary that you stay real in your products, offering and other activities. Anything fake will be noticed and shared. To this end, many top fashion brands are using customer photographs as accompanying product pictures. While it might not look good as a studio photograph, it does add a lot of positivity. Maximize the opportunity by:
Advertising the right product

Advertising real photographs, especially those shared by customers

Advertising only what you can offer and not overstating
A good experience shared by one customer is equal to big paid promotion campaign. If you are also allowing other vendors to sell their products on your fashion store, then make sure the quality of images, description and other factors pass some real value.
8. Be Intelligent to Moderate Reviews
Customer reviews have always influence future buyer's decision making. It is thus necessary that you moderate all product reviews and ensure that only the good ones are displayed. The better the reviews, the more are the chances of reselling. However, there's also a limit to which you can choose to filter out the reviews. The purpose should be to help other customers make an informed choice and not just hear good things about the brand/product.
If you have very good mind to analyze the product performance then you can moderate reviews accordingly. Don't moderate only good reviews blindly because it might cost you fortune. Some products on your online store might have high percentage of refunds & return orders, so here you can balance positive & negative reviews so visitors won't buy blindly just by following positive reviews. Consequently, calculated inclusion of both positive and negative reviews should help you save money in refunds and return orders.
Pro Tip: If you receive genuine negative review for any product, approve it and try to put your point in reply. This will help other buyers to make their purchase decision easier.
9. Sell Look
Since you belong to the fashion industry, the main thing that you are selling is the look. Thus, instead of selling one particular dress, you can suggest other complimenting products and accessories that best go with the buy. You can promote complete looks created by a particular selection in dress, glasses, hats, shoes, sandals, watches, bags, jewelry, etc. Another alternative to selling in combination is to suggest related products (customers also viewed…) on the lading page. Check above image how ASOS provides buy a look suggestion on particular product.
10. Make Contact Process Easy for Customers
Though digitization has made shopping more convenient, we still look out for a human touch to the processes, especially when faced with difficulties and issues. To be successful, it is necessary that the customer finds it easy to contact representative. The common tools to this end include emails, chat, phone calls, social media communication, contact forms and others. You can also be creative to make this more convenient. One more important thing to keep in mind is the use of social media wisely.
We have seen some famous brands are using auto reply feature when someone mentions them online (Twitter) and later users badly trolls them for poor management. Try to give 100% personal touch and manage all complaints easily so later can track it. In recent Facebook update now Facebook Page will show the total % of response rate in particular time. So, give quick response to all messages on Facebook brand page as well.
11. To Sustain Customers, Provide Product Offers Time to Time
Every once in a while, customers need an impetus to continue with a particular shopping brand / shopping portals. This best comes in the form of discounts, offers, coupons, and the like. In a year there are plenty of various festivals and days where online fashion stores are providing huge discount offers on holiday sales like Christmas, New Year, Black Friday, Cyber Monday, St. Patrick's Day and many more days. Don't relief yourself after uploading discount banners on shopping portal. Reach out to the audience via Email Marketing, Google Ads, Bing Ads, Social Media and other forms.
12. Use Cookies (Follow GDPR properly)
Cookies help turn shopping experiences more personalized. It is essentially data that is stored in the browser that enables users to continue from where he/she left from. The most important use of Cookies is to understand user behavior on your website to enhance their shopping experience. Now, cookies take several forms including website functionality cookies, website analytics cookies, customer preferences cookies and targeting cookies. You will need to understand each to make the most out of them.
Pro Tip: Checkout This Cookie law before you implement the same on your website. One need to strictly follow the same and make their website visitors aware that you are collecting cookies. You must follow GDPR while tracking any type of user data.
More information – https://eugdpr.org/
13. Find Vendors on ETSY
If you are in the process of creating fashion eCommerce marketplace, you will require sellers who will advertise their products on your website. The best resource to find top sellers in fashion niche is ETSY. Here, you can look for bands that don't just match your product categories but also advocate your brand image while offering a great deal in pricing and delivery.
Pro Tip: Now a days many B2B portals are launched to connect buyers with manufacturers. Here you need to stay connected with proper channel with the help of such B2B portals to find best products at competitive pricing.
14. Market and Advertise Brands Intelligently
Depending on the business model you follow, it is necessary to evoke a trust benefit from your customers. For instance, if you are running a portal selling many different bands, it is necessary that you prioritize the marketing of your own fashion brand name rather than focus on the brands you work with. Advertising in this case should be very strategic such that you are placed above a particular brand and whenever a return customer is looking for a particular product, he/she would come back to your website rather than looking elsewhere for the brand.
To meet this end, you will need to:
Investment in ads at Google ads, Bing Ads, Facebook and Instagram catalogue ads

Display and re-marketing ads

Brand Name Search Campaigns

Participate in Google's shopping action program which is currently available for selected merchants in USA and other countries.
If you owns online store then you should spend some time to define eCommerce Marketing strategies. For any eCommerce site one has to advertise their products on Google Ads, Facebook and Instagram ads and Bing Ads. This paid marketing platforms offers great solutions only designs for eCommerce websites.
For example, if you are selling even 10 products online then you can create shopping feed and shopping campaign in Google Ads & Bing Ads. Shopping Campaign will provide highest conversions, conv. Rate and ROI as they are the cheapest form of advertisements as compare to other campaign types.
Always think that your competitors are smarter than you. Yes, your competitors will never miss a chance to grab your customers and PPC platforms can play a key role in it. If your shopping portal is quite popular and you are not running Search Campaign in Google Ads by your brand name then you are losing huge opportunity to boost sales.
Competitors might be running ads on your brand name so whenever any users search your store name in Google they might see your competitor's ad on first place and visit their store instead of your's. So be intelligent and start running ads on your brand keywords. If you can spend some more money on marketing then don't hesitate to run ads on competitor's store keywords as well!
15. Train Your Customer Care Team
The nuances of customer care are changing drastically with the continuous evolution of the online fashion industry. The work they do is beyond handing logistics and delivery related troubleshooting. You will thus need to train your customer care team to be knowledgeable about industry trends and even be able to give style advice to customers.
The modern customer care team will address complains on social media, handle social posts and even track brand mentions across the internet.
16. SEO and Content Marketing
Content is still the king when it comes to online leadership. For fashion retailers, a key to success in this regard lies in fashion blogging and photography. Regular fashion related articles (4 to 5 lengthy articles every month) is the modern way of marketing brands and looks. They don't just create interesting stories but also assist in the technical aspect of website marketing involving SEO (H1 tags, Meta Tags, Alt Tags, Internal Links and more). eCommerce store should have better content marketing strategies to boost ranks on Google on targeted keywords.
Pro Tip: Invest in influencers in your industry who would help market your brand among their audience and consequently, also offer a greater exposure to your products. Collaborate with leading fashion bloggers of the industry which might adds value to your store.
17. Adapt new features to drive sales from social media
I have seen that conversion rate is always low from social media traffic as compare to Google shopping ads visitors but if implemented properly, you can have a great numbers of sales from social media.
Facebook and Instagram has launched shop feature which will allow customers to directly place order on Instagram / Facebook without leaving the app.
Checkout this video:
Conclusion: Surviving the swell in the online fashion retail industry is difficult but if you are doing all the right things, there would be enough encouragement for you to continue experimenting, improving and learning.