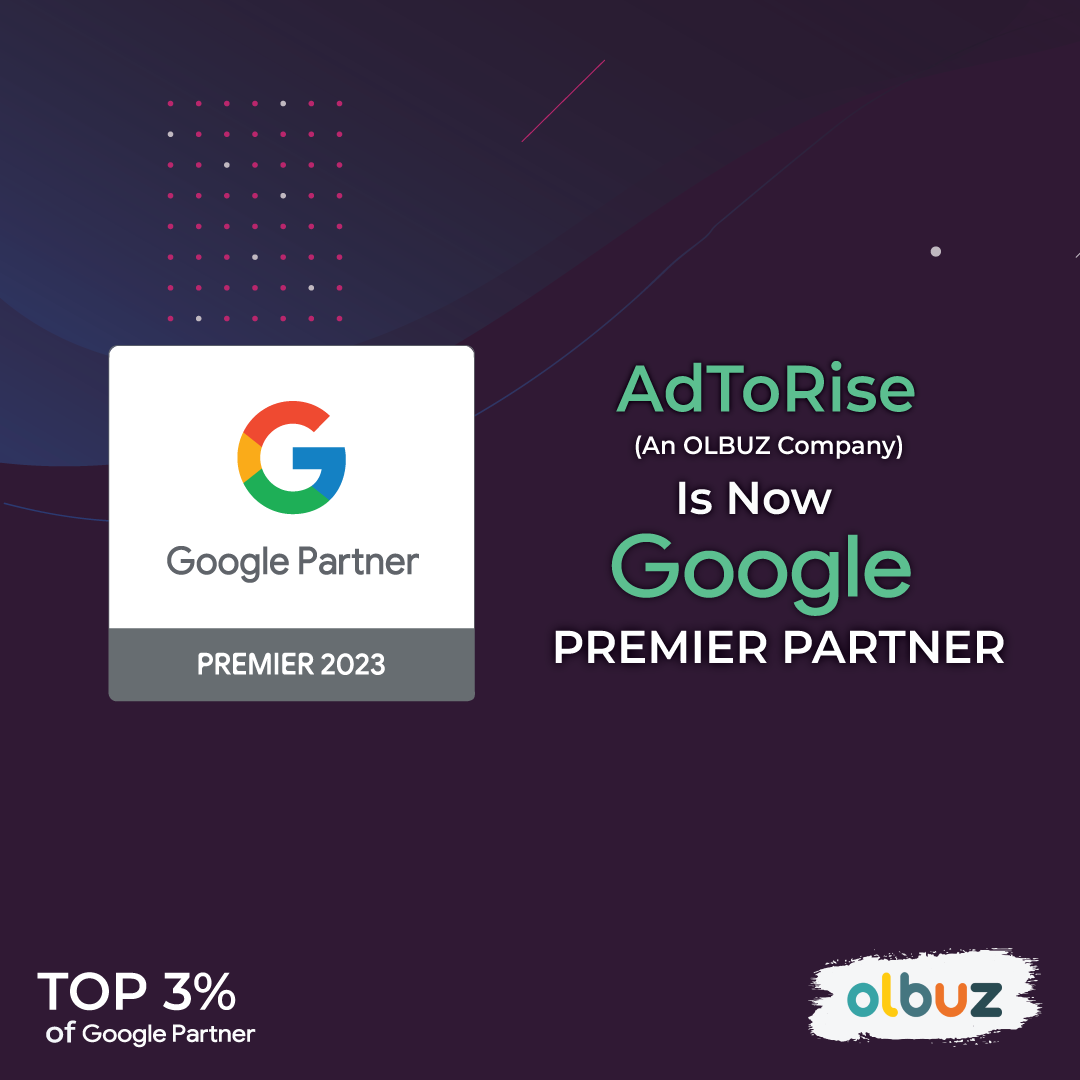 Ahmedabad, 22-02-2023: AdtoRise, a Media agency owned by OLBUZ, has been conferred a Google Premier Partner status for its result-oriented pay-per-click services. This makes the company a member of an elite group of Google Premier Partners, including the top 3% Google Partners in the country. Indeed, it is no small feat. And the company attributes this success to its clients, talented workforce, amazing Google ads support team and the visionary approach of its CEO.
Marcin Karnowski, senior director of ads and marketing for Europe, Middle east and Africa at Google, has congratulated the company for the achievement. He added, "It's a true accomplishment, one that signals the company's leading expertise in Google Ads, in forging new client relationships, and in helping clients grow. We look forward to supporting them as they help their customers build smart online strategies and drive long-term success."
Google Partners program is designed to help companies that run Paid ads for clients. Through the Google Partners program, one can get access to the training, support, and resources required to help one's clients grow. At present, the Google Partners Program offers three tiers of participation  – Member, Partner, and Premier Partner. 
A Premier Partner, being the top tier participation of Google Partners program, provides eligible partners with many benefits to help their clients setup for success, including product betas, executive experiences, dedicated account support, and more.
Each year, Google picks the top 3% of participating companies based on performance, spend, and certifications and make them Google Premier Partners. We are proud to be part of these top 3% agencies in India.
The recent recognition by Google demonstrates our expertise in helping our clients multiply their growth with the help of Google ads solution. The company believes that the only way to grow as a company is to help its employees and clients grow. Since the beginning, OLBUZ has been delivering success to all our clients spread in the USA, UK, Australia, Canada and India and all other timezone. 
Jignesh Gohel, CEO and Founder of OLBUZ said, 
"We, each and every one at OLBUZ, are feeling proud of being named as 2023 Google Premier partner. When we started AdToRise, we knew that it would not be easy to create a name as there were already many players in the industry. But within a short span, we earned the trust of our clients. We have been helping clients multiple their growth through tailored Google ads solutions. And this recognition by Google is the proof of our commitment to excellence. And we thank our clients for trusting us and thank our team for exceeding clients' expectations."
AdToRise is a performance marketing agency offering entire PPC solutions and currently handling Google ads, Meta Ads, Amazon Ads etc.. for more than 150+ clients. The company has witnessed 90% YoY (2022 – 2023) growth and expecting similar result in the coming year. And its results have been proven in multiple case studies.