Are you Yoga Entrepreneur? Are you associated with any of these Yoga business?
Yoga Studio

Yoga retreat centers

Yoga product retail & online stores

Online yoga classes, tutorials and courses

Digital material (yoga dvds, ebooks etc)

Yoga therapy and healing consultants
Are you finding it difficult to 
launch and promote your yoga business online?
 This article is for you!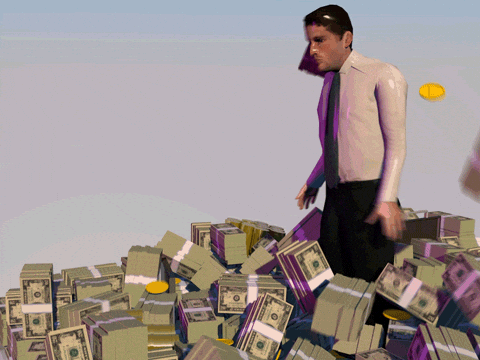 From being an ancient spiritual practice, Yoga has grown today to become a big business catering to premium lifestyle. In the last four years, the number of takers and the spending on Yoga practices and products have increased dramatically. You will be surprised to know that, over 30% of Yoga Journal subscribers in the US have an average household income of over $100,000. The sudden increase of interest has led to more teachers pouring in and training studios coming up. The below statistics will blow your mind and will help you to understand the tremendous business opportunities in the field of yoga.
Growth of Yoga and Meditation in USA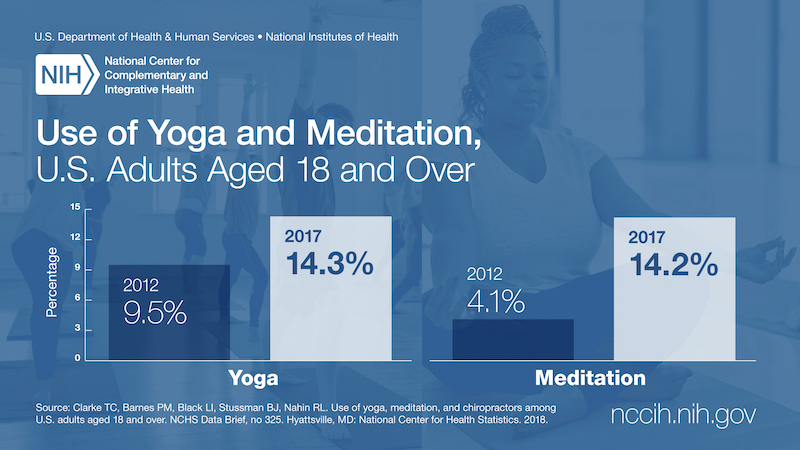 National Center for Complementary and Integrative Health has published the research statistics on use of 
yoga and meditation in USA
. According to their statistics, more than 14.3% of American adults were taking up yoga and meditation classes. In 2012, this was a mere 9.5%. The same is the case for children. In 2012, 3.1% were practicing yoga which was grown to almost 8.4% by 2017. This is a significant increase when we turn our attention to other alternative therapies and practices. Yoga certainly has many health benefits but the reasons for popularity of the meditative exercise have been the non-intrusive nature of the practice. People in the US are opting for Yoga sessions to reduce stress, improve overall physical fitness, body flexibility and mental health.
Over $12bn Market Size of Yoga Industry
According to IBIS world, the Yoga & Pilates industry is having very huge market in USA. As you can see, they are estimating over $12bn market size of this Yoga and Pilate industry with over  40K businesses operating in USA.
The number might have decreased due to COVID-19 but I am sure the online yoga classes and online session business may grown at large extant. The growth figures point toward a huge opportunity for those who are and are looking to establish themselves in yoga industry. Not just in USA but people from all around the world are spending high on Yoga products like yoga mats, towels, yoga apparel/costumes, blocks and straps, props, accessories and even training DVDs. Here is the yoga demographic and statistics for your reference: And if you refer the Google trend statistics mentioned below, you will see the increased stack of the yoga which is steadily growing over time. You will be surprised to see the sudden spike in Yoga related searches in March 2020 clearly depict its increased popularity around the world.
Now the most important question for you is;
Are you ready to promote your yoga business?
Your competitors are already started making leap into this ever growing industry. As an example; when I search with "
yoga
" on Amazon, it lists over 
384245
 results today! This result clearly indicates the current scenario of the industry. If you are a yoga teacher, a studio owner, a retreat owner, yoga eCommere website owner or any business that can include yoga as one of its products, this is the time to make some haste! If you are up for the challenge, here is the 9 steps proven plan to revamp your yoga business to acquire this growing business
#1 Have a Beautiful Website
First and foremost, you will need a business website that appeals to the possible takers. Simplicity of design and user friendly UI is the key. Always remember that these are premium 
customers you are targeting
 and they won't mind paying. Just invest in a web designer who would be able to create an interface that will allow your audience to connect with the service. Be it an ecommerce platform or a retreat website, make it user friendly and responsive. If you already own a website and want to check the basic performance, visit official 
Google PageSpeed Insight tool
 and see how it perform. Never hesitate to take expert's help.
#2 Local Business Presence
If your business is 
targeting local
 audiences, it is very important that you show up in local search listings of popular search platforms like Google, Yelp or Yellow Pages. The percentage of people getting introduced into Yoga is increasing by 25% globally each year. As search queries increase it is crucial that they find your business. Many tourists would be looking for local yoga classes and this should be your catch point.
As you can see in above screenshot, most of the businesses shows temporarily closed due to covid but once everything get settled, you will start getting call and inquiries from the Google local business listing as well.
#3 Social Media Engagement
80% of the literate population in the world is active on some social platform every day. For businesses, this could be a huge opportunity to attract attention and increase your leads. Investing in Facebook, Instagram, Twitter and Pinterest marketing can leverage your brand to a great extent. 
Social media
 engagement has been the key drivers in several industries and especially with wellness programs and products like Yoga. You can easily engage with your audiences by sharing your yoga poses, useful yoga information and can divert those connection into leads.
Not just Facebook but Instagram and Youtube is also one of the most promising platform where you can start sharing your yoga knowledge with the prospect. Start organizing free yoga sessions and host some Yoga webinars to engage with your previous customers to keep them active while working from home at present.
#4 Have Mobile App
According to Statista, there are over 3 billion Smartphone users and expected to reach this figure to 3.8 billion till 2021. If you are still avoiding mobile audiences then you are losing huge business opportunities from it. By having mobile app about your business, you can not only target these audiences but also can offers additional facilities to your existing customers. Lets for example; allows your customers to book their yoga session directly from their smartphone can make their booking experience easier. Here is the best example of few popular Yoga Mobile applications enjoying the benefits of mobile platforms.
Yoga.Com Android App Statistics
Daily Yoga iPhone App Statistics
#5 Utilize the popularity of Video platforms
Specifically applying to individual yoga personality, yoga studio and retreat owners, videos can be a powerful platform to showcase the quality of indulgence they can expect at your premises. Marketing on YouTube videos will give them a prior visual experience, encouraging their motivation to opt for the sessions. Again, remember that these are premium customers and will settle for the best experience. As for example Yoga Burn has nicely launched
 "

Yoga Practice of the Lockdown Challenge!

"
 on YouTube and getting very good viewership. Using video promotion Yoga industry can make their visual brand as well as they can earn money by video monetization technique. Check here:
#6 Improve Productivity with SaaS products
For effectively managing your yoga studios or programs, SaaS (
Software as services
) products are very helpful. You can easily manage entire yoga studio which includes:
Showcase multiple yoga session with calendars

Manage multiple yoga teachers and distribute the sessions accordingly

Online booking and payment collection

Populate emails announcing new sessions or updates about the session

Manage multiple yoga studios from your PC
This solution will empower your productivity and can enhance your business by eliminating non productive efforts and can help you to focus on your core expertise which is Yoga.
#7 Paid Marketing / PPC Advertisement
Paid marketing is the best way to acquire a new business by investing smartly in various paid channels like Google Ads, Facebook Paid advertisement, Twitter ads etc. We have helped various eCommerce businesses to generate huge revenue with the help of this strategy and can also replicate the same for you. Here is one real example for your reference:
#8 Content Marketing
Content is the life blood of internet and can make or break your brand within small time-frame. It is everywhere you look or listen. Content marketing through in house blogs and publication is a valuable tool to attract prospects and convert them into customers. The type of content should be closely related to what you are trying to sell. With a spiritual product like yoga, you should be able to inspire trust and confident through your content.
#9 Active Participation in local events & festivals
Yoga is more of an activity and you need to showcase your quality through practical means. Organize boot camps, beach lessons, yoga on water and other innovative activities that will make news and get the attention of your target demographics. You can also attend yoga festivals being held by various organizations around the world. Such activities will help you to built strong networks amongst peers and will give boost to your brand popularity.
Conclusion:
The statistics clearly shows the tremendous growth opportunity for Yoga Industry and being a business, you must re-think your online marketing and business strategies to stay ahead with your competitors.
How OLBUZ can help you?
OLBUZ
 places itself as one of the leading agency having vast experience working in Yoga and health industry. Through our innovative IT products and marketing strategies, we can help your business grow in both length and form. OLBUZ curates highly personalized IT services and caters to precise business requirement, making you an effective online leader in your industry. Need any help to boost your Yoga Business? 
Contact us
 now!